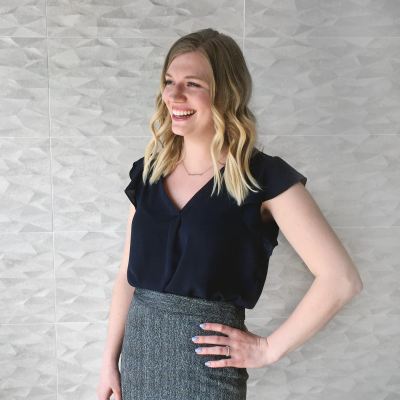 "It's so rewarding to be part of transforming people's smiles and lives. That's really special."
Kelsey, Financial Coordinator
Kelsey is a jack of all trades, master of all. She's here to make you feel comfortable and welcome from the moment you walk through our door. Kelsey has been with West Loop Ortho since the very beginning! "I really enjoy working with Dr. Arruda; she loves what she does and is so invested in each and every patient. It is so great working for someone who cares so much."
Kelsey moved to Chicago from Boise, Idaho, ready for adventure and to catch as many Cubs games as she can. "I grew up watching them and support all things Cubbies. I watch, listen to, or follow a sports app for almost every game." When she isn't at the office or Wrigley Field, you can find Kelsey eating her way through the city or spending time with her new puppy.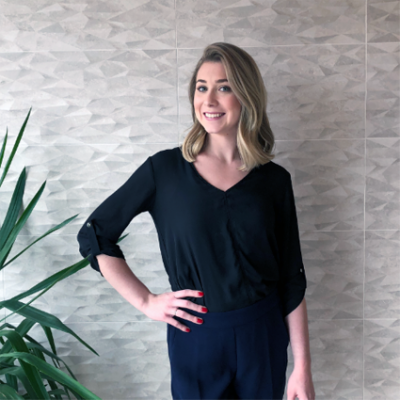 "I love interacting with new people and am grateful to have found a career that introduces me to so many!"
Georgia, Treatment Coordinator
Georgia has been with West Loop Ortho since February 2019 and we're so excited to have her. Georgia is a people person and genuinely enjoys helping others, so it only makes sense she's our Treatment Coordinator. Originally from Indianapolis, Georgia moved to the Windy City for a new adventure.
Georgia handles all things new patient related. She explains treatment and financial plans and works with patients to find the best treatment option that accommodates their wishes and needs. When Georgia isn't at work, you can find her at the movies, at a concert, or exploring the Chicago food scene.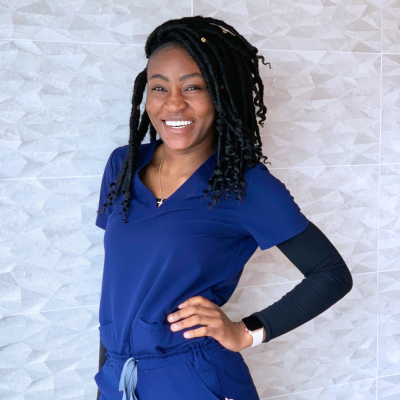 "I love learning so much everyday and applying that knowledge to help patients."
Adey, Orthodontic Assistant
Adey has been with the West Loop Ortho team since July 2019. She skillfully assists Dr. Arruda in the back, and will help you feel relaxed and comfortable in the patient chair.
Adey grew up in Nigeria, and has lived in Chicago for about three years. She's still exploring the city and all it has to offer. Adey chose the orthodontic field because of how positive and rewarding the profession is. When Adey isn't at work, she loves sitting down with a glass of wine and some boom chicka pop popcorn watching movies with friends.
"Nothing makes me happier than witnessing individuals feel excited about having their perfect smile."
Olivia, Orthodontic Assistant
Olivia is a crucial member of our team because like Adey, she assists Dr. Arruda and Dr. Desai in certain procedures and prepares everything they need to put braces on, make adjustments, and anything in between. Olivia was born in Monterey, California, and grew up in South Bend, Indiana. She's lived in Chicago for six years.
Some of her favorite things to do in the city include going to the neighborhood festivals or markets, cheering on the Sox, thrifting, and volunteering. Not to mention, we hear she makes a delicious baked mac and cheese. Yum!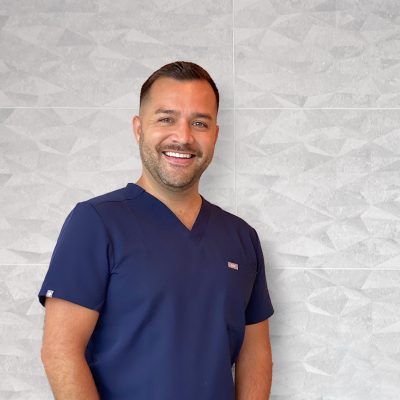 "The best part is getting to know a patient over time and becoming excited about their progress together."
Nick, Scheduling Coordinator
Whether it's setting up patient appointments or staff meetings, Nick handles all things scheduling. He weighs out the length of time a procedure will take to perform and coordinates that with the open clinic chairs, assigned staff, prescribed time in between appointments, and your availability, of course.
During his free time, Nick enjoys creating elaborate meals and hosting festive dinner parties. As a long-time culinary devotee, he's the go-to expert for the latest and greatest spots to eat around town.