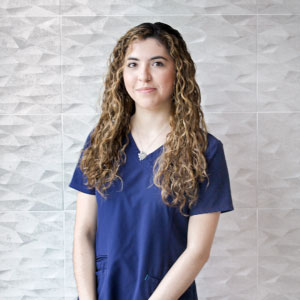 "The best part is getting to know a patient over time and becoming excited about their progress together."
Jazmine, Orthodontic Assistant
As the first person you will see in our office, Jazmine is prepared to get everything in order right off the bat! As our new Scheduling Coordinator, she will ensure that you are slotted in no matter what! It's a good thing she's passionate about providing a great experience for patients because that's the key to great service. Give her a ring about your treatment schedule and without a doubt she'll get a good time for you!
When she has successfully allotted patients, she focuses her time to wind down a bit. She takes her dog for walks around the neighborhood, takes time to connect with mother nature, and explores restaurants in the city! She's a perfect fit for scheduling, and she's our first line of offense in the office. Welcome Jazmine to the West Loop Ortho team!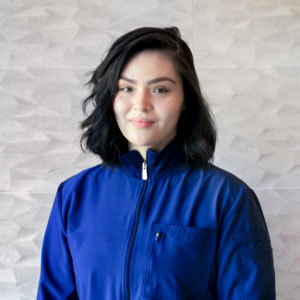 "Everyday is a joy when presented with the opportunity to help others better themselves."
Edith, Patient Care Coordinator
We at West Loop figured we needed someone who could assess our patients' health needs, organizing information about the company, their treatment, and status of their health. Meet Edith, our new Patient Care Coordinator! She has taken over the mission of making sure appointments are thorough and helping patients leave with a better understanding than when they came in! On top of that, she ensures that patients have a clear feel for West Loop Ortho!
On her off days she is usually out exploring the world! She loves to have double the fun by trying new foods while traveling. When she is opting for a local adventure, she'll go to concerts as a music fanatic or take activity classes. Being friendly, thorough, and personable at all times makes Edith a perfect fit for becoming our Patient Care Coordinator! Expect customer service quality to be a strong focus and look forward to having a great experience! Welcome Edith to the team!
"At the end of the day, we're here to help people improve their confidence."
Stephanie, Orthodontic Assistant
If you're looking to get into treatment, your first step is to meet Stephanie! As our orthodontic assistant, she'll walk you through the steps of starting your orthodontic journey! She's passionate about making patients comfortable and answering all the questions they may have!
After a long day of educating patients, she loves scuba diving and is always planning different trips to go diving around the world! She loves going wakeboarding and tubing in the summer with family in Crystal Lake, IL. She was born in Portland, Oregon, but grew up in Sitka Alaska, and lived all along the coast in Washington, Hilo Hawaii and Ipswich England. It's great to have Steph around, welcome her to the team!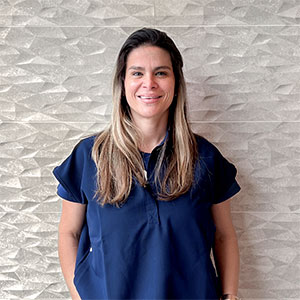 "If we can brighten someone's day in any way, then we've taken a step in the right direction."
Edmarie, Patient Care Coordinator
An office can always benefit from having hospitality and service at the forefront. That's exactly what our newest Patient Care Coordinator, Edmarie, offers on top of dental assistant skills! Right as you walk through the doors, you'll feel welcomed, at home, and ready to get into treatment!
Born in the " Enchanted Island" of Puerto Rico where my roots for passion, adventure and nature evolved into a lifestyle . My family, husband and two adult children have traveled the world with me to experience nature at its best. Our daughter loves the warm waters of the island while our son enjoys the Rocky mountains of Colorado where we have all been snowboarding for 15 plus years. She has always been a caregiver and enjoys making other people smile. In her spare time you will find her playing volleyball on the Chicago Beach, riding her scooter around town or simply enjoying what the City of Chicago has to offer and this new chapter of her life! With all that experience, she's a top tier match for us, welcome Edmarie!